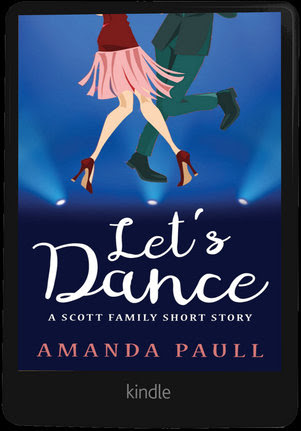 Let's dance/Christmas Day Skerfuffle /Fenella's fabulous fountain fondue- Amanda Paul-
Romantic comedy
If you buy the first book- the next can be requested free of charge if you sign up
to the authors email list.
Each one is a short (45mins) read which should leave you smiling.
Lets Dance: Shona and Laura have signed up for a dance class- yet another one of their
keep fit ideas. After sorting out their right foot from their left and what is deemed
"unsuitable footwear" by the rather officious and strict dance teacher Portia, they
begin to enjoy it. For Laura the dancing leads to a special friendship off the and on
the dance floor. I enjoyed this, it made me smile at life and sometimes how the
worst situations can lead to something good.
Christmas Day Kerfuffle: It's Christmas and Laura has invited no boyfriend Ben, to the
family brunch. The Scott family appear to leap from one catastrophe to another and
today is no different. Ben takes it all in his stride and even helps out with a coat
hanger and magnet contraption (you'll have to read it to find out why!).
An enjoyable coffee break read to make you cringe and smile at family life.
Fenella's fabulous Fountain Fondue: Fenella is Ben's mother whom he call "mother"
which Laura finds very formal. It is her birthday and the two families ate to meet
for the first time. As with anything drama follows the Scott family around and
things don't exactly go to plan.
Each one of these would probably stand alone but to get the feel of the Scott
family they are perhaps best read in sequence.
A longer book would be wonderful. Any plans Amanda?
For more reviews please see my blog http://nickibookblog.blogspot.co.uk/
or follow me on Twitter @nickijmurphy1
Amazon Top 1000 reviewer.
Author Bio – Amanda Paull is a writer of humorous romantic fiction. She lives in the North East
of England with her husband and works in the public sector. The inspiration for her stories
comes from real life, which she tries to show the funnier side of by embellishing to the hilt. Amanda's Website: http://www.amandapaull.co.uk Social Media Links – Twitter: http://twitter.com/Apaullfiction Facebook: http://facebook.com/Apaullfiction
Let's Dance (Scott Family Short Stories, Book 1) She's helping out a friend. His dad's hip's gone. Could a farcical mix-up lead to love? Ballroom dancing is the last thing Laura wants to try. But her best friend is desperate to meet
a hip-swinging Adonis, so before she knows it, Laura is cha cha cha-ing in the back of the Dog
and Duck with nerdy Ben. At least no one else need ever find out. No such luck. Her mother
is armed with a social media page and dangerous. The shenanigans begin. What a pity Ben's
now looking rather dapper. Will he scarper? Or is Ben made of sterner stuff? If you like innocent, laugh-out-loud family mayhem, you'll love Let's Dance, the first Scott Family. Purchase Link – UK - https://www.amazon.co.uk/Dance-Scott-Family-Short-Stories-ebook/dp/B079ML1K2P US - https://www.amazon.com/Dance-Scott-Family-Short-Stories-ebook/dp/B079ML1K2P A Christmas Day Kerfuffle (Scott Family Short Stories, Book 2) A blooming romance. A trapped poodle. Can their relationship survive the madness? After a shaky start, Laura and Ben are now getting along great. So much so that Laura dares
to invite him for a Christmas Day brunch with her family. As the good tidings commence,
a horrifying discovery is made. Freddie, the family poodle, is trapped. Will the ensuing
biblical scale mayhem sound the death knell for Laura and Ben's budding romance?
Or is he just a glutton for punishment? If you enjoyed Let's Dance, you'll love A Christmas Day Kerfuffle, the second Scott Family
Short Story, by Amanda Paull. Download it today to discover whether love prevails, and Freddie cooks. Purchase Links Amazon UK: https://www.amazon.co.uk/dp/B01N05F9KU US - https://www.amazon.com/gp/product/B01N05F9KU/ Other Retailers UBL: https://www.books2read.com/u/boZqd1 Fenella's Fabulous Fountain Fondue (Scott Family Short Stories, Book 3) It's the day of the party. Laura and Ben are in love. But could a posh marshmallow
put the kibosh on their relationship? They've survived Scott Family mayhem twice so far, and now Laura and Ben's relationship is
rock solid. They are having a wonderful time at the Grand Hotel, relaxing in the spa and
putting the final touches to Ben's mother's 85th birthday party preparations. It's all going to plan. Fenella loves her party. The two families get along fabulously. It's a marvellous do. What could
possibly go wrong? Download the third Scott Family Short Story today to discover whether the Scotts
have a cheeky little surprise of their own for long-suffering Ben and Laura. Purchase Links US - https://www.amazon.com/Fenellas-Fabulous-Fountain-Fondue-Stories-ebook/dp/B07MHFPJ2L UK - https://www.amazon.co.uk/Fenellas-Fabulous-Fountain-Fondue-Stories-ebook/dp/B07MHFPJ2L